Welcome at TopoMania!
Click on a continent and then click the start button to start practising. There are maps for all the continents available: Europe, Africa, Asia, South America, North America and Austrialia/Oceania.

Have fun practising your geography!
---
Tips for using TopoMania
Maximize the Map
If you have trouble reading the map or if you see labels on top of each other, you can use the

button to make the game go full screen. You can enlarge the labels by using the

button. Please note that if you use the full screen button the keyboard will not work anymore. As an alternative you can use the full screen function from your browser. Most browsers use the F11 key to go full screen. When using the browser full screen mode the keyboard will work as usable.
Make your own map
Some of the maps, like the map of North America and the map of Australia are crowded with small islands. If you have a large enough monitor this will not be a problem. But if you feel the map is to crowded you make a selection of the countries you want to use. At the Country Settings page

you can select the countries to show on the map. You can choose from various fixed groups of countries or you can make your own set of countries and save them as a preset.
TopoMania on a Digital Blackbord
TopoMania is perfect to use on a digital blackbord. On the picture you can see the Capital game in action on a digital blackboard. Because the map in TopoMania is made of vector images you can enlarge the game while keeping the details and sharpness.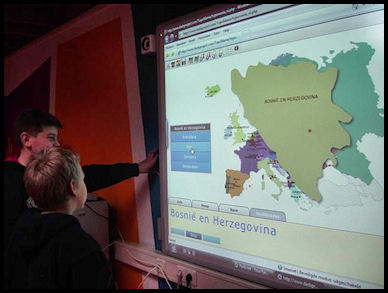 Let TopoMania do the work
Every game has its own demonstration mode. Choose a game and press the "Demo" button. The game will play by itself, giving you the opportunity to see how the game works and get an introduction to the countries on the map at the same time. On the Game Settings page you can adjust the demo speed.